Iskania: how to become a graceful fighter
Brazilian Jiu-Jitsu (BJJ) and its warm-up technique of 'ginasta natural' have been widely adopted by WSL pros as a complementary discipline to surfing. Iskania Pérez shares her life between BJJ and surfing, but unlike John John Florence, is refusing to choose between the two. Meet an unlikely athlete.
Iskania grew up in Cabarete, on the north coast of the Dominican Republic, where the Atlantic Ocean throws some of its best shapes. Surf tourism has exploded in the area, creating a lively scene with a mix of local champions (Manuel Selman, Max Self) and talented expat residents (Amparo Maluendez).
As Iskania started dreaming of leaving this little paradise for the big city, her dad introduced her to MMA videos in a bid to demonstrate how ready she had to be to 'defend herself and feel safe in the city'. Rather than frighten the fourth grader, the videos enthused young Iskania who decided there and then she would become bigger than Ronda Rousey, the first US Judo Olympian and Ultimate Fighting Champion.
She came across her local Brazilian Jiu-Jitsu club de La Costa, through one of her younger brother's classmate. She instantly felt home: 'Not only did I learn BJJ techniques but I was learning about life, self-control and values such as respect, discipline and solidarity.' Very quickly, Iskania started sharing her love of the sport, became an assistant and then instructor.
While many people encounter BJJ through surf training, Iskania encountered surfing through her BJJ academy, where many adepts were keen surfers themselves: this included brown belt fellow Kengei Fung who founded the popular surf school of El Chino in Cabarete and offered Iskania free access to his school's surfboards. With one week to go before she was due to leave for the city to study medicine, she fell in love with surfing: 'surfing inspires me and relaxes me to such a level that it makes me see everything that happens outside of the water from another perspective. It is only about enjoying the moment, that connection with your board and the waves, each wave as if it were the last.'
Iskania represented her country in the Pan-american Surfing Games in December and is now looking to do competitive BJJ in the USA. 'Both sports have taught me a lot: if you asked me to give up on one I would say no.' Is the girl too hungry? Why! 2018 is the year when women prove that they can have their cake and eat it. Ask Esther Ledecka, the first athlete in 90 years to claim gold in two different sports at the same Winter Olympics.
When we talked to the 21 year-old Iskania, it was clear that her ambitions were matched by a strong vision and rare maturity. Having been cast away as a 'failure' after she dropped out of uni and coming back on all fronts within a year show her true champion potential and sponsorship worthiness. We have no doubt she will make her mark on this earth with the same grace that fills her eloquence and unique take on life. Meet her in her own words.
-----------------------------------------------------------------------------------------
What do you like about surfing?
I feel connected to the sea and all the most intense and mysterious secrets that it hides in its depths. It's fun because I think about the History Channel documentaries and all those gigantic animals that might be in darkest waters we haven't been able to get to yet. All these fantasies and sensations on my board make me feel more alive.
Surfing makes me see everything from another perspective. When I touch the water, all that is left behind on the shore is only a memory, as if I were immersed in a different reality, all things work differently.

Something that I also love is that I can meet and connect with different people I would never meet otherwise: out there in the water next to each other, regardless of class, you can earn the respect of all or be sent back to the beginners' area if you ignore basic rules.
Compared to BJJ, surfing helps me find that part of me that is not hard: the one that puts on a sexy bikini and feels like modelling, not something I can do sweating in my kimono when I have to step up to the guys. But to feel is to be human, and all the sensations that I experience either in the water, surfing, teaching someone to pop up or being on the mat and teaching at the academy fulfill me in an indescribable way.
Is surfing as open to women as BJJ has been to you?
Being a surfer girl can be challenging, sometimes boys are really competitive at the line up in Encuentro Beach. However, if they notice you have the level, they'll get out of your way. Everyday there's more girls surfing. In the summer you can see all the girls from the Mariposa Foundation getting in there and having the time of their lives. All smiles! In general, everyone's welcome as long as they respect each other and keep in mind the basic rules of surfing.
Many surfers are taking on BJJ's ginastica natural. What do you think are the benefits of this cross-training?
I believe that both sports complement each other, not just at a physical level but also at a spiritual level. For a BJJ practioner, surfing is a way to escape the constant physical contact we have in everyday training. My BJJ gave me perseverance, discipline and the conditioning to move fast. To warm up before a surf competition I use the exercises that my coach gave me (biomechanics of the pop-up, the drop and cutbacks). But when I go in the water for fun, my friends and I always do a fight on the shore, we play to see who falls first and it's quite fun.
What are the surfing tips BJJ taught you?
BJJ brings on so many benefits, it's difficult to list them all:
* If you concentrate on technique or your opponent's level, you will fail. You must trust your abilities, the capacity you have to get where you want. Trust your instincts.
* Do not stop! If you feel you can't do more, lower the intensity but never lower your guard. Keep going with the flow, do it a 50%. When things can go 100% again, then it's your time, you have to take advantage of it and give it everything.
* If you start something, never leave it in the middle because you will always feel that sense of dissatisfaction with the thought of "I had it, if only..."
* Who says you can't? I'm sure if you do it a million times it will happen.
* Who says you can't be what you want to be? You will meet thousands of people who will tell you so. Who understands human nature?

* Originality takes time but when you achieve it, you break the mould. Keep enjoying being yourself.
* The most important thing is to know that you gave your best and that you can improve with practice. That kind of happiness beat any feeling of failure.
How do you see your future between surfing and BJJ? Is it correct you dropped your medicine studies?
I left home at 16 to study in the city: I lived alone, I studied a lot, I continued with my BJJ practice but it was hard as I had to work as well. When I returned from the city three years later, many told me i had failed and I believed them. I spent about a year reorganizing my life: I tried to enter the air force because I wanted to continue studying medicine but it did not work because I did not have the right contacts, so I told myself that it was time to stop being dependent on others and I decided to create a plan.
That's when surfing came in as a healing process. I had to start from scratch. It was very difficult and frustrating at the beginning, but then I met Heriberto Tinoco, surf coach and Chinos partner who became not only my surf coach but also a life coach and very good friend. From there my surfing progressively improved. He gave me the opportunity to learn to teach and I worked with Chinos for 9 months. Today I'm an independent instructor.
I re-entered the university at a new location, only an hour away from home. Now I study Physical Education, I work part time in a restaurant, I practice Jiu Jitsu 5 times a week, I am a youth instructor in my BJJ academy, I have my own BJJ team at uni, I am an instructor of level 1 certified surfing, I go to the gym as a complement, I do yoga twice a week and I am part of an African and fire dance group called YEMAYA Tribe.

My next goal is to compete in Brazilian Jiu-Jitsu in the United States. I have an appointment very soon with the American consulate for the visa but it will still be a challenge because of my economic situation, which is why I am working on a sponsorship proposal. Throughout my career as an athlete I have had many difficulties and they will continue to present themselves but I will succeed because I will never stop.
AMEN SISTER!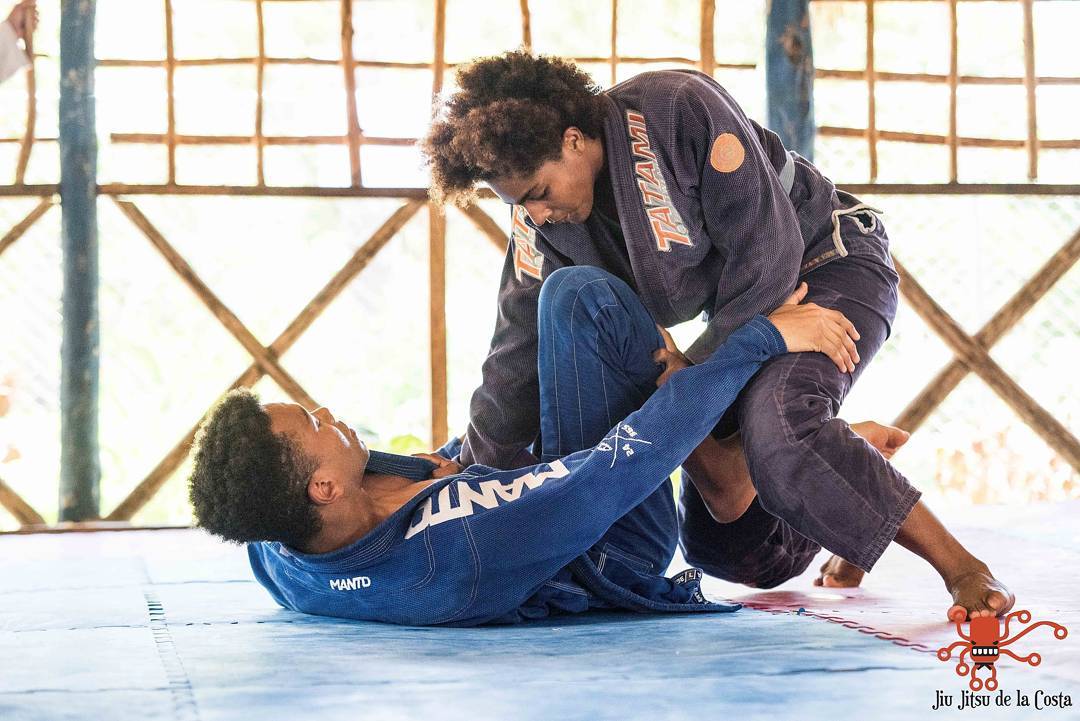 laurence b
Chief Storyteller at Swellbound