A wooden Board worth its weight in gold
When I think 'wooden surfboard', the first image that springs to mind is a lacquered piece of history hanging on the wall of an over-expensive slice of real estate on the North Shore. But wooden boards have become once again living instruments of stoke. Today we meet, Lignum, a small UK company that recently attained top Gold Level from the Eco Board Project for its handcrafted wooden surfboards.
The Eco Board Project was set up in 2013 by Sustainable Surf, a US environmental organisation that seeks to mobilise individuals and industry players around the concept of 'conscious surfing'. The Eco Board Project delivers an 'Ecoboard label' to 'performance surfboards' that meet its certification levels, Level 1 or Gold. Both levels concentrate on the building materials of a board, resins and core, and how 'plant-based', recycled or toxic each is. In addition, Gold Level assesses the use of renewable energy and waste management at the makers' facilities.
Handcrafting wooden boards already gave Lignum a good head start in the race for Gold. Wood in Lignum surfboards is used as a structural component, where lattices replace the need for a foam core and wood panels cover deck and bottom. The framework is cut with a homemade computerised system (or 'CNC machine'), shaping and finishing is done by hand.
For glassing, Lignum considered oiling only, but this didn't seem to be durable. To ensure longevity, Lignum use Epoxy resin with 30% bio-based carbon content (Entropy Resins Super Sap ONE- itself Gold certified).
As for what happens on site, the Lignum workshop uses solar energy produced by the farm where it is based. Wood is recycled on smaller products such as skateboards and fins, scraps go in stoves for heating and sawdust goes into organic composting toilets in local campsites.
Using wood in itself doesn't guarantee Gold Level unless you can prove it is sustainably sourced. Plywood export is a main driver for illegal logging and deforestation in many countries, leading to loss of biodiversity and accelerated climate change. With no import controls at the EU border, it is up to each wood worker and board maker to ensure they use sustainable wood. Lignum bypass the international conundrum by sourcing British Western Red Cedar from the local forests of the South West of England. With the added bonus of lower transportation carbon footprint and stricter forestry practices, British Red Cedar offers an extremely stable soft wood, very resistant to decay and easy to paint. And it is just as well that Lignum mostly relies on local wood, as relying on the certification of the Forest Stewardship Council (FSC certification) might be a thing of the past: after years of mounting allegations of corrupt FSC commercial certifiers, FSC founding member Greenpeace resigned last month due to the FSC's failure "to distinguish good forest management practices from the typical model of unsustainable forest exploitation" and therefore "failures to protect forests".
No doubt Lignum will remain vigilant. One quality it certainly has over the FSC is its transparency: "there have been compromises along the way, Fin boxes, Glass fibre and Glues are to name a few." But as they say, the effort is still worth it: "board for board, a timber core offers a very credible option to take a greener stance on your surfing footprint."
Surprisingly light, made with an eye to detail, durability and performance, tested by scores of local lifeguards including barrel lover and surf writer Pete Geall, Lignum wooden surfboards are indeed beyond credible!
Book a workshop with Lignum and make your own wooden board!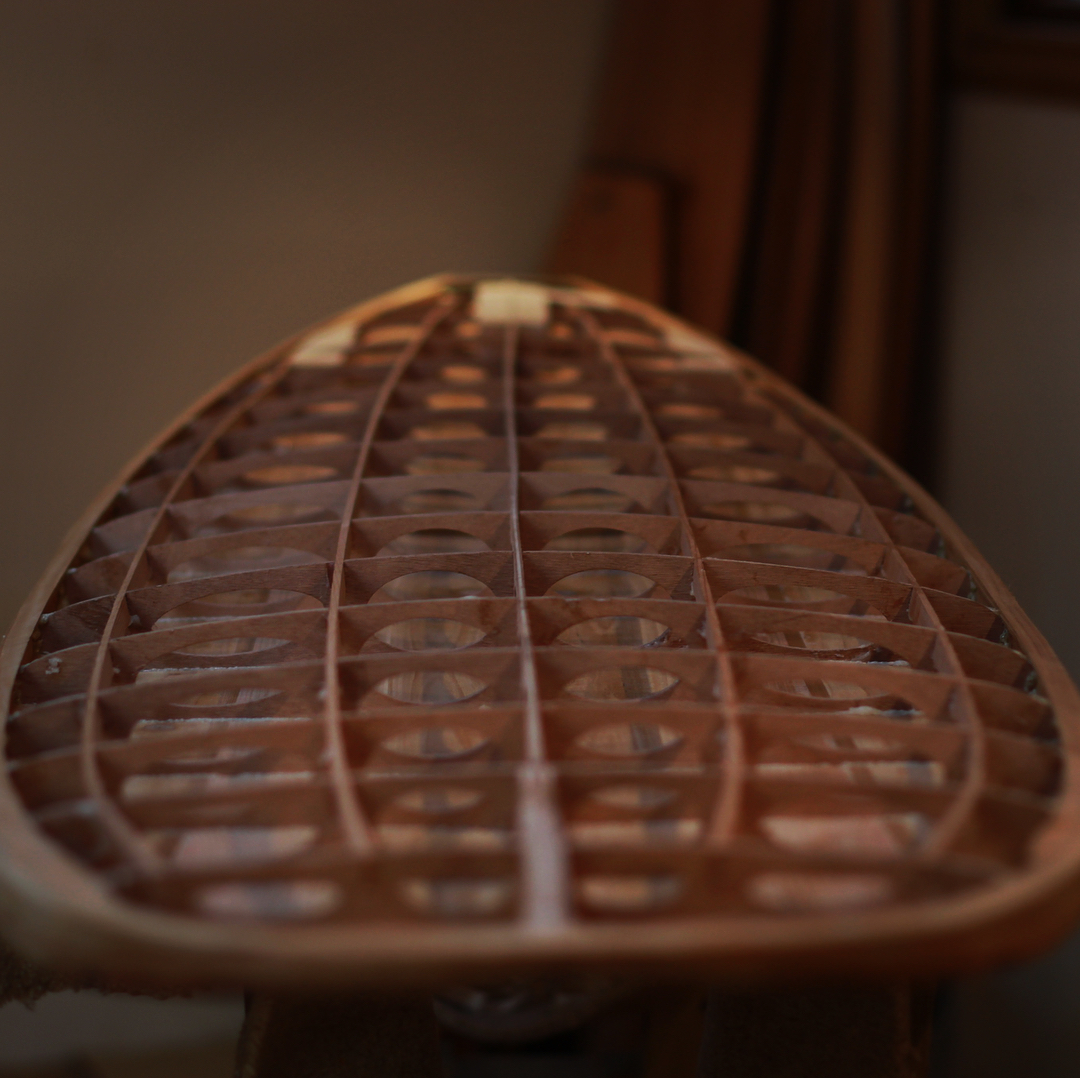 laurence b
Chief Storyteller at Swellbound